Indonesia: Useful information about country.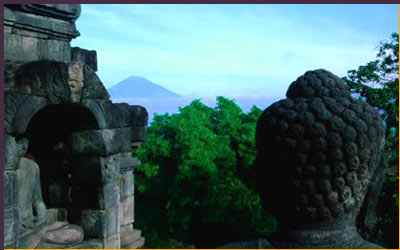 For sheer size, scale and variety, Indonesia is pretty much unbeatable. The country is so enormous that nobody is really sure quite how big it is; there are between 13,000 and 17,000 islands. It's certainly the largest archipelago in the world, spreading over 5200km between the Asian mainland and Australia, all of it within the tropics and with huge areas of ocean separating the landmasses. Not surprisingly, Indonesia's ethnic, cultural and linguistic diversity is correspondingly great - the best estimate is of 500 languages and dialects spoken by around 200 million people.
The largely volcanic nature of the islands has created tall cloud-swept mountains swathed in the green of rice terraces or rainforest, dropping to blindingly bright beaches and vivid blue seas, the backdrop for Southeast Asia's biggest wilderness areas and wildlife sanctuaries. The ethnic mix of Indonesia is overwhelming: this is the world's largest Muslim country, but with a distinct local flavour, and there are also substantial populations of Christians, Hindus and animists, whose forms of worship, customs and lifestyles have been influencing each other for centuries.
Worryingly, it is this very religious and racial diversity that in recent years has threatened to unravel the very fabric of Indonesian society. Riots in many parts of the country have pitched Muslims against their Christian neighbours, with two of these battles - in the Maluku Islands and in Poso in Central Sulawesi - developing into full-scale civil wars. On Java and other islands, deep-rooted anti-Chinese sentiment surfaced in particularly bloody fashion in 1998 and continues to smoulder to this day. More localized ethnic violence has its source in the transmigration policies of the Indonesian government, whose aim was to settle far-flung areas such as Kalimantan with migrants from overpopulated regions including Java and Madura, often without local consultation and with little heed given to traditional land rights. Unsurprisingly, resentment and violence have sometimes boiled over. However, with a new and popular president, Megawati Sukarnoputri, in power, and the economy finally showing signs of recovery, it is hoped that - while further bloodshed is perhaps inevitable - the fury and frequency of these internecine battles may start to subside.
Indonesian has also been badly battered in recent years by the separatist struggles of a couple of its provinces. Despite wide-ranging democratic reforms introduced by Megawati and her predecessor, Gus Dur, two disaffected provinces, Aceh in North Sumatra and West Papua (formerly Irian Jaya), tired of years of repression and corruption, unhappy that the new democratic reforms do not go far enough for their liking, and emboldened by East Timor's successful secession (the former Indonesian province became the world's newest country in 2001), began to clamour for their own autonomy , launching bloody uprisings that continue to this day. Whether their respective struggles prove successful - and what will happen to Indonesia if they are - remains to be seen, though with these two provinces lying at the geographical extremes of the archipelago, it's tempting to think that any break from Indonesia will have little adverse effect on the rest of the country.
Because Indonesia encompasses such a diversity of cultures, it can be very difficult to decide where to go. However, there is a well-worn overland travellers' route across the archipelago, which begins by taking a boat from Penang in Malaysia to Medan on Sumatra's northeast coast. From here the classic itinerary runs to the orang-utan sanctuary at Bukit Lawang, the nippy little hill resort of Berastagi, the chilled-out lakeside resorts of Danau Toba and the surfers' mecca of Pulau Nias . Further south, the area around Bukittinggi appeals because of its flamboyant Minangkabau architecture and dances. Many travellers then hurtle through the southern half of Sumatra in their headlong rush to Java , probably bypassing the exhaustingly overpopulated capital Jakarta , but perhaps pausing at the relaxed beach resort of Pangandaran in West Java. Next stop is always the ancient capital of Yogyakarta , a cultural centre which hosts daily performances of traditional dance and music and offers batik courses for curious travellers. Yogya also makes a good base for exploring the huge Borobodur (Buddhist) and Prambanan (Hindu) temples. Java's biggest natural attractions are its volcanoes: the Dieng plateau , with its coloured lakes and ancient Hindu temples and, most famously, Gunung Bromo , where most travellers brave a sunrise climb to the summit.
Just across the water from East Java sits Bali , the longtime jewel in the crown of Indonesian tourism, a tiny island of elegant temples, verdant landscape and fine surf. The biggest resorts are the party towns of Kuta and adjacent Legian , with the more subdued beaches at Lovina and Candi Dasa appealing to travellers not hell-bent on raging nightlife. Most visitors also spend time in Bali's cultural centre of Ubud , whose lifeblood continues to be painting, carving, dancing and music-making. The islands east of Bali - collectively known as Nusa Tenggara - are now attracting bigger crowds, particularly neighbouring Lombok , with its beautiful beaches and temples. East again, the chance of seeing the world's largest lizards, the Komodo dragons , draws travellers to Komodo and then it's an easy hop across to Flores which has great surfing, and the unforgettable coloured crater lakes of Keli Mutu . South of Flores, Sumba is famous for its intricate fabrics, grand funeral ceremonies and extraordinary annual ritual war, the pasola .
North of Flores, Sulawesi is renowned for the intriguing culture of the highland Torajans, whose idiosyncratic architecture and impressively ghoulish burial rituals are astonishing. West of Sulawesi, the island of Borneo is divided into the Malaysian districts of Sabah and Sarawak, the independent kingdom of Brunei, and the Indonesian state of Kalimantan . For the overland traveller short on time, there's not much here that can't be experienced more rewardingly across the border in Sarawak, but Tanjung Puting national park offers guaranteed close contact with orang-utans, and there are opportunities for river travel in remote jungle. East of Sulawesi, West Papua (Irian Jaya) is expensive and time-consuming to reach, but is worth considering for the remote Baliem Valley , home of the Dani people, who hunt with arrows and wear penis gourds.
The whole archipelago is tropical, with temperatures at sea level always between 21A°C and 33A°C, although cooler in the mountains. In theory, the year divides into a wet and dry season, though it's often hard to tell the difference. Very roughly, in much of the country, November to April are the wet months (January and February the wettest) and May through to October are dry. However, in northern Sumatra, this pattern is effectively reversed. The peak tourist season is between mid-June and mid-September and again over the Christmas and New Year season.

More travel guides:
Opening hours and festivals
Cultural hints
Diving
Surfing
Trekking
Religions of Indonesia
Traditional dance and music
Books
Entry requirements and visa extension
Money and costs
Communications
Medical care and emergencies
Food and drink
Overland and sea routes into Indonesia
Indonesia
History
Language
Getting around
Information and maps
Addresses
Time differences
Public holidays
Crime and safety

Choose destination to make hotel reservation



Indonesia TOP CITIES :
Bali
Jakarta
Denpasar Bali
Surabaya
Yogyakarta
Ubud Bali
Denpasar
Ubud
Bandung
Kuta
Kuta Bali
Nusa Dua
Nusa Dua Bali
Batam Island
Bintan Island
Macau
Medan
Semarang
Singaraja
Amlapura Bali
Anyer Desa Ba
Anyer Java
Bali, Indonesia
Bandun West Java
Banjarmasin
Bekasi
Bintan
Bogor
Bukittinggi
Dili
Gianyar Bali
Gianyar Regency
Jimbaran Bali
Lagoi
Magelang Central Java
Malang
Manado
Medan North Sumatra
Nusa Dua Bali
Nusa Dua, Bali
Nusa Tenggara Barat
Palembang
Pasuruan
Pekanbaru
Perumahan Danau Bogor Java
Sanur Ba
Sanur Bali
Senggigi
Solo Central Java
Solo City